The results of your search are shown below. To refine your search, revise your keywords, and/or select the appropriate check boxes to the right.
Symptom
Help buttons and navigator Help On feature open to incorrect help files after upgrade to FR50 version 2018.1
Symptom
The following examples demonstrate a few of the various errors encountered:
Millennium connection fails upon Log On or launching utilities
Several different errors can be encountered depending on how the user is attempting to connect to Millennium (Client/Browser interface, utilities)
Page Cannot be Displayed
Page Cannot be Found
Accessing Millennium via the Browser
Login failed for user 'millennium_admin'
HTTP 500 – The website cannot display the page
Error while trying to retrieve text for error ORA-01017 Driver's SQLSetConnectAttr failed
Log In Failure. ORA-01017: invalid username/password; logon denied Driver's SQLSetConnectAttr failed
Trying to run the SetYearsParameters.exe utility
Unable to get system information as millennium_admin
Log In Failure
Symptom
** Applies to Mac users who access the MIP private cloud **
When logging into portal.mip.com the message:
The "Remote Desktop Connection" Application Cannot Be Started is returned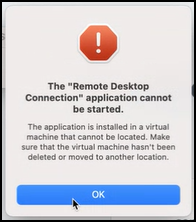 Symptom
** Applies to Mac users **
When launching MIP Classic or Fundraising 50 from the MIP Portal the message 'Microsoft Remote Desktop Quit Unexpectedly' appears.